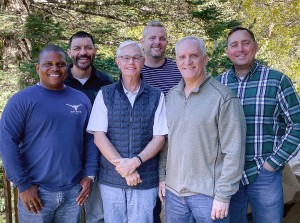 Elders
Our elders devote themselves to prayer and to the ministry of God's Word as they govern over our church (Acts 6:4). They shepherd our congregation with the love of Christ (1Peter 5:1-3). They encourage the body of Christ at Voyagers and live life in his Spirit.
Elders: (top row, left to right) Michael Parra, Chris Hedrick, Gavin Hudson (bottom row, left to right) Robert Godfrey, Mark Schulz, Steve Albin.

Learn more about our Elders here.
Contact Elders: vbcelders@voyagers.org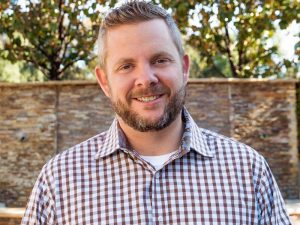 Chris Hedrick – Lead Pastor
Chris came to Voyagers via Arizona. After 10 years of serving in two wonderful churches he knew God was moving him and his family out to Orange County. Chris graduated from Hope International University with a major in Biblical studies, and is currently studying at Talbot School of Theology at Biola University. His greatest passion in the church is teaching and leadership.
Chris's hope and prayer for the people of Voyagers is that they would grow in an ever-deepening relationship with Jesus. He loves to help believers come to understand the magnitude of who Jesus really is. He loves his wife and three amazing kids. He's a decent mountain biker, a solid ping-pong player and as for surfing, he tries really hard.
Contact Chris Hedrick.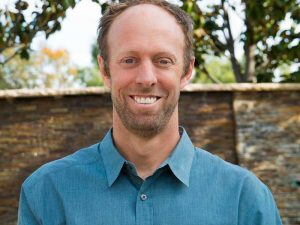 Clarke Brogger – Associate Pastor
Clarke came to Voyagers in the fall of 2016, and has said from day one that he couldn't be happier to have been called to VBC.  Clarke has a degree in Social Psychology from Cal Poly, San Luis Obispo and studied at both Western and Vanguard Universities to attain his Master's in Biblical and Theological Studies. 
Clarke LOVES people and looks forward to connecting with you if he hasn't already.  His hope is that the community at VBC would be one that thrives and strives.  His vision is that EVERYONE would be part of a Home Group, be involved in some area of service at the church, and take part in a global missions trip.  Clarke wants this to be a safe place to discover what a life with Jesus is supposed to look like (Ephesians 4:1).  This includes working out our salvation, sharing our struggles and celebrating our victories with each other under the umbrella of Christ's compassion and God's grace.  To that end, Clarke says, "let's do this!" 
Clarke was born and raised in Newport Beach, and has been a passionate surfer his whole life.  Ironically, he primarily considers himself a mountain man as he is an avid rock and mountain climber.  He loves the adventure of both of these and other pursuits as he feels they are a great mirror of the Christian life … adventurous, fun, and never boring!
Clarke is married to Annie and they have two children, Solace and Evie. Family time is his greatest joy in life.  He wants you to know that at VBC, #communitydoes #lifetogether #inChrist!
Contact Clarke Brogger.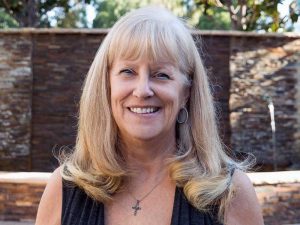 Lois Venanzi – Office Manager and Pastoral Team Administrator
Lois and her family has been attending Voyagers since 1987 when Voyagers was meeting at Irvine Valley College.  We were drawn to the Bible teaching, wonderful music and the people who welcomed us with open arms.  After raising our 3 children, Lois worked in the corporate world before starting on staff at Voyagers in 2011.  The administrative skills God blessed her with are now used for His glory.   It is my passion that everyone that calls or walks into the church office feels welcomed as a part of our church family.
Through the years she has been involved at VBC as a volunteer director of infants and preschoolers, taught in Sunday School, Sonrise Island, Women's Bible Study, Legacy and most recently in MOPS as a Mentor Mom.  Developing personal relationships with others and leading them to Christ, or a deeper relationship with Him, has been a joy.
Lois has been married to Steve for 45 years and we met when we were in High School.  As a family, Steve & I have 3 grown children, Doug, Lisa & Lacey.  We enjoy being grandparents to our 4 darling grandkids, traveling, socializing with friends and enjoying good food.  Lois loves to cook and find new restaurants that are innovative, interesting and delicious!
Contact Lois Venanzi.
Mark Vanlandingham – Care and Counseling Pastor
Mark and his wife Sherry have been members of the Voyagers family since 1982.  One of their joys of having attended the church for so many years has been to observe God's faithfulness to the Voyagers community and to see the church "grow" in so many ways.
Mark was a member of the Elder Board for over 20 years before joining the pastoral team. Following 30 years in the corporate arena, Mark joined the staff in 2011.  In his role as Associate Pastor, his ministry emphasis includes counseling and community building. His vision for ministry is a hope to see others go deep in their relationship with Jesus Christ and to experience a true feeling of "family" at Voyagers Bible Church.
Mark attended Cal Lutheran University and received his Bachelor of Science in Psychology which has been instrumental in his role of counseling, directing individuals towards healing and restoration.
Mark and his wife Sherry love spending time with family and the joy of grandchildren. Movie nights, sports, travel and spending time with friends are some of Mark's favorite outings.
Contact Mark Vanlandingham.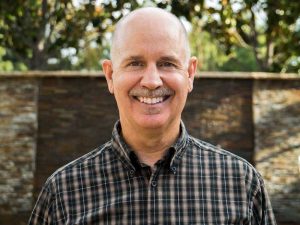 Michael Risley – Prayer and Disciple-making Pastor
Michael served in 3 churches (Lake Avenue Church-Pasadena, Rolling Hills Covenant Church-Rolling Hills Estates, Mariners Church-Irvine) before the Lord led him to Voyagers in 2002. He has a bachelor's degree from Biola University, a Master of Divinity degree from Talbot School of Theology, and a Doctor of Ministry degree from Trinity Evangelical Divinity School.
Michael's identity and mission is based upon Philippians 1:21 and states "My life is all about Christ–to be all and only for Jesus Christ: To know Him, love Him and obey Him, and to help others live the same (John 17:3; 14:21: Matt.28:19-20)." Three of Michael's main responsibilities and passions at church are small group discipleship, leadership development, and prayer.
Michael and his wife Joanie have been married since 1978. They have three adult children and four grandkids who call him, "Funpa." He enjoys hiking, biking, gardening, wrestling grandkids, and spending time with his best friend Joanie.
Contact Michael Risley.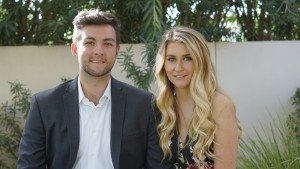 Ben Sweet – Worship Pastor
In 2018, Ben graduated from Grand Canyon University with a degree in Digital Film, married his beautiful wife Lauryn and moved from his home town of Phoenix, AZ to accept a position at a church in Indiana, all in a matter of months.
Ben is passionate about worship ministry and has served in many musical and leadership capacities over the years. He finds himself exactly where God has placed him at Voyagers and is excited to see what God has in store for the next chapter of his life and the church's. Ben has seen God work in incredible ways in his own life and the people around him and his desire for his family at Voyagers church is that together, they would marvel at the wonder and timing of God's goodness.
His hope is that each of us would continue to become more like Jesus as we continue to allow the gospel to enrich and transform our hearts and lives.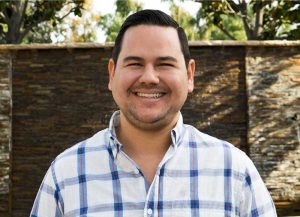 Zack Thompson – Children and Student Ministries Pastor
Zack started at Voyagers in September 2016 after serving Jr High through Young Families ministries in a few different churches over the course of eight years. Born and raised in Southern California, he made his way from the Inland Empire to Orange County for Biola University and stayed here when he kept going back to Biola for seminary twice.
Zack loves helping people know and love God more each day. He is especially excited with working with kids on this journey since it is such an important part in someone's life. He is passionate about connecting with parents and helping them in their role of passing down faith to their children.
Zack and his wife Emily love exploring new places whether that is some corner of a local city or a foreign country. Zack also is constantly disappointed by the Colorado Avalanche and Sunderland A.F.C., but breakfast burritos help his recovery.
Contact Zack Thompson.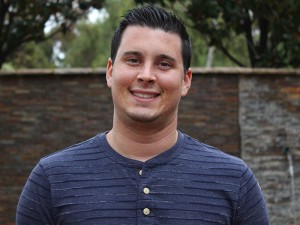 Davis Gastelum – High School Pastor
The role of High School Pastor brings together Davis' great life passions: disciple-making for Christ, working with high school students and serving the community of Irvine, specifically Voyagers Bible Church.  Having lived in Irvine for most of his life and attended Woodbridge High School with his now wife, Heather Gastelum, Davis cares deeply for the community and feels widely connected to it.  It was during his own high school years at Voyagers Bible Church that Davis became involved in a D-group and learned firsthand the power of discipleship and impact of a community of believers; indeed, those years left a lasting mark on his heart and would help direct his journey into ministry.
After graduating from BIOLA University in 2014, Davis returned to Voyagers as a volunteer D-group leader in our High School group, which ignited a further interest in serving local youth.  He followed God's call to serve Irvine and Tustin's high school campuses as an Area Representative with the Fellowship of Christian Athletes; for three years, he mentored students, partnered with parents and teachers, and saw much evidence of God at work on local campuses.   Soon, it became clear that God was leading Davis to become the High School Pastor, a call he accepted in the fall of 2018
Davis' ministry is based on seeking to fulfill the call of the Great Commission (Matthew 28: 18-20).  Indeed, the twelve disciples themselves were likely high-school-aged young men, and look how Christ used them to impact the world.  What can Jesus do in Orange County with 100+ high school students passionately committed to the cause of Christ?  Davis is excited find out and would welcome the opportunity to share ways in which you or your student can get involved!
Contact Davis Gastelum.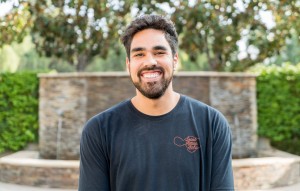 Aaron Cardinio – Jr. High Pastor
Aaron was born in the San Francisco Bay Area and then moved to the San Joaquin Valley in 4th grade where his family settled in Lodi, CA. In 2011 he moved to Orange County and began volunteering as a 7th grade boys small group leader at Grace Fellowship Church in Costa Mesa. Three years late he left to work for Irvine Younglife to help build a Junior High Ministry.
He came to Voyagers Bible Church after 2 years with Irvine Younglife. The Lord has placed on his heart a calling for Junior High Ministry. His deepest desire is to help students grow in a better understanding of who God is and help them figure out ways to implement that understanding in the communities that they are in. He also has a huge passion for training and empowering leaders to make an impact in the lives of students. He believes anyone can make a huge impact in the life of a student with the proper training and encouragement.
After 4 years of dating and 8 months of engagement Aaron just recently was married to his best friend Casey. They now live in Costa Mesa and she works as a 1st-grade teacher at Deerfield Elementary. If Aaron is not thinking about Junior High Ministry he is probably spending time with Casey, fishing, or surfing down in Newport Beach. In addition, He loves time with close friends and any sort of travel when he has the chance.
Contact Aaron Cardinio.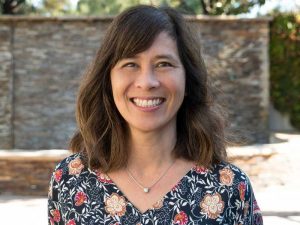 Kristen Opre – Student Ministries Director
Kristen came to Voyagers with her family in 2001. She is a SoCal native and has always lived in close proximity to the beach. She has a BA in Psychology from UCLA and prior to starting a family she was a field manager in the clothing industry. She then became a stay at home mom, raising her children in Irvine with her husband as they volunteered together in the Children's program. God placed on her heart to become a VBS Director and then she moved onward to become the Director of Early Childhood. As she watched her children's growth in age, she too moved alongside them and in 2011 God called her to shift her giftedness towards Student Ministries.
 Kristen is an Enneagram type 2, the Helper, as her mission is to shepherd and anticipate the needs of students, parents and leaders through their daily walks of life in and outside of our church community. She feels privileged and blessed to be a part of so many students' lives and their spiritual growth throughout their JH & HS years.
 Kristen is married to Mike and have two adult children, Jordan who now resides in NY and Cassandra attends APU. In her free time, she loves challenging herself to discover and take on new creative outlets.
Contact Kristen Opre.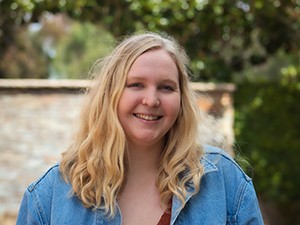 Abby Montplaisir – Children's Ministry Intern
Abby grew up in Ormond Beach, Florida. When her family moved to Southern California, Abby started attending Voyagers as an 8th grader. Abby began to volunteer in children's ministry leading a class of first and second graders where her passion for working in ministry began. Her senior year of high school she was a VBC Kids summer intern and repeated that internship three summers. Now, she is excited to be a part of year-round ministry at Voyagers in her role as a Stamps Intern. She also attends Concordia University Irvine in the Church Leadership program. Abby is studying to be a pastor and is loving all of her classes (especially Greek).
As an Enneagram 3w2, Abby is all about being authentic, having fun, and building relationships! She loves to teach, but whenever it's game time you can be sure to find Abby running around with the kids. She is so thankful for this opportunity to learn and grow while getting to share Christ's love with everyone she encounters here at Voyagers.
If she isn't at work or school you can find Abby in a coffee shop with a good book, going on adventures with friends, hammocking and listening to a podcast, or watching some of her favorite Disney movies – Cars, Hercules, Tangled, and Mulan.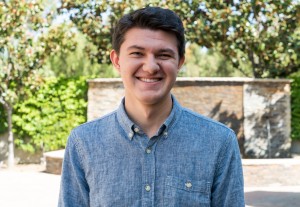 Tyler Levesque – A/V Tech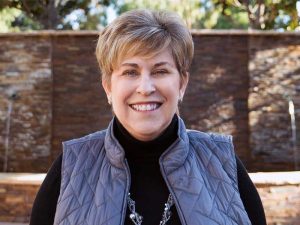 Kim Coyle – Bookkeeper
Kim and her husband Bob have been attending Voyagers for the past 22 years. After leaving the corporate world, she was looking forward to meeting other stay-at-home Mom's after her daughter Paige was born. She joined MOPS and that began her many years of volunteering in MOPS, Sonrise Island, Women's Bible Study and other great ministries. Seven years ago she joined our staff as the Church Bookkeeper.
Kim has been married for 24 years to Bob and has two amazing young adults, Jeffrey and Paige.
Contact Kim Coyle.