Global Outreach
God has called Voyagers to be a church that partners with indigenous communities committed to living out the gospel in their unique contexts. Much more than short-term mission trips once a year, we are raising up communities to play an ongoing part in the ways God is moving in these countries.  Whether it's a local prayer gathering or event, a mission trip, supporting our ministry partners, or more, stepping into these communities can happen at any time and in a variety of different ways.
Global Partners
---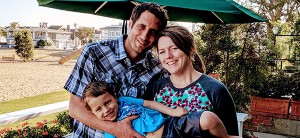 A Tribute to Our Precious Global Partners
by Keri Comer, former Missions Director
I am so very grieved to report that Ryan Smith, his wife and son died tragically on the Fourth of July. Ryan, born an identical twin in 1975, grew up in San Diego attending New Hope Church. I met him in 1998 when he was an intern at the U.S. Center for World Mission in Pasadena.  Voyagers Bible Church first began supporting him about 15 years ago when he served in Central Asia among an unreached, Muslim-background people group. It was at this time that he developed a business strategy to revive the ancient art of rug-weaving and became fluent in the national language. He returned to the West Coast, married Lora Tacquard–a school teacher–and finished his degree at Cal Berkeley. Then, in September 2011, he and Lora relocated to an area populated by the same rug-weaving people group and began to build relationships within the community through his rug business and public service projects. rewoven.net. I was so proud of the advances he made to empower rural women to produce and sell their beautiful carpets. He encouraged others to appreciate their work on a national and international level. I loved how Lora embraced her new home and culture, learned the local language and had begun teaching in her community. God strengthened her after the loss of their first child; she and Ryan lovingly parented Caleb who just celebrated his 4th birthday. This photo was taken the last time we spent time together in January.