Follow our story on Instagram and Facebook to celebrate with us the exciting ways that God is moving through our community!
The Story Telling Team exists to tell stories of God's movement in Voyagers Bible Church. We want to highlight the stories of God changing people's lives, of the people who make Voyagers great, and look ahead at what is to come by showing where we came from as a church. Our goal is to provide the opportunity to share our experiences in our spiritual lives as a way to glorify God and to reach others who may not know Him.
Baptism Spring 2017
ESL Ministry Update
ESL Easter Praise
On Good Friday morning we welcomed 9 new students at ESL, including a couple from Iran and another from China, whose two little boys became instant friends during intake. Pastor Clarke gave a large-group presentation on the real meaning of Easter (show stolen by his daughter Evie). Our mid-class break outdoors was a hit. Most important: about 8 ESL students and their families came to church on Sunday to hear more about Jesus and participate in Easter worship! Praise God for the leadership in this amazing ministry and the hearts of these students!
ESL Students Easter Experience
ESL Students Easter Experience
ESL Students Easter Experience
ESL Students Easter Experience
MOPS Mammas Testimonials
VBC Staff: Do You Want to Build a Snowman?
HOME for Thanksgiving Testimonials
Families from our church family signed up to host students from our ESL classes in their home for a Thanksgiving meal and experience. Below, learn about how 3 of the 11 families were impacted by serving this ministry!
From the Comer crew…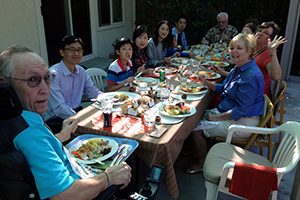 "The Comers' Thanksgiving celebration took place in the backyard to accommodate our friend, John Poole, who is confined to a wheelchair. We praise God for the perfect weather for our lunch! In addition to our son and his family, we had friends from church and also hosted two families for their FIRST Thanksgiving EVER! Both the women are in Keri's ESL group on Friday mornings and have only been in the States for a few months. They both have sons so this was a perfect choice for us since our grandson was with us and he is such a people-lover!"
From the Prochnow crew…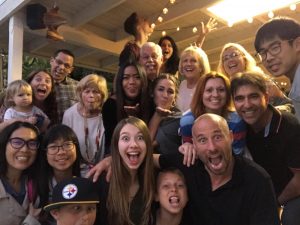 "We had a great time with our guests. Our ESL student and her family were  from China. They seem to really enjoy themselves and we loved having them. At first communication was a little rough. While we were sitting at dinner I remembered that I had a translation app on my phone. Once I started using the app it was much easier to talk. We talked about where they lived, school, and the church they attend here in the states. They were also sent home with lots of Thanksgiving left overs and pie!!!  We plan on inviting them to our annual new years party.  This year we were blessed to also host people from Indonesia and Hungry so it was wonderful to have so many ESL friends learning to communicate and be thankful together.  An English phrase our ESL student had mastered: "It's very nice to meet you and your family!""
Jingle & Mingle 2016 Highlights
Church: December Update
THANK YOU! Operation Christmas Child Event
Rooted Fall 2016 Session
Women's Retreat 2016
Lagoon Night September 2016
Baptism Fall 2016
Sonrise Island 2016
This summer we had almost 450 kids join us for our vacation bible school Sonrise Island! We worshipped with Dan Dan and the Stranded Band, watched skits from our awesome skit team, and learned 5 Island Truths about God. Here is a recap of the week:
Graduating Seniors 2016
Class of 2016 at Voyagers Bible Church Baccalaureate.
Baptisms from 4/17/2016
 We had the amazing opportunity to celebrate baptisms! What a blessing to see people of all ages publicly declare their faith in front of our church family. Here is a recap video of our celebration
 Have you witnessed or heard of God moving in a unique and compelling way?
Share your story with us below!