June 18-22
Sonrise Island will be one of the best weeks of your child's summer. Kids take over the church campus in a
fun-filled week of games, worship, and seeing how Jesus is working in their life.
You can find more information and sign up your child at voyagers.org/sonrise
Want to help make this a special week for these kids,
volunteer by clicking here if you are 18 years old or older
or this here if you are under 18 years old.
---
Child Dedication
Child dedication is a prayerful declaration of the parents' stewardship of God's gracious gift to them. Dedication does not impart salvation to a child; it is a joyful public expression of faith and commitment on the part of the parents. It is also the parents' pledge to do all they can, as God gives them wisdom, to raise their child to respect and honor God and to love and serve Jesus Christ.
For more information please contact Pastor Zack at zthompson@voyagers.org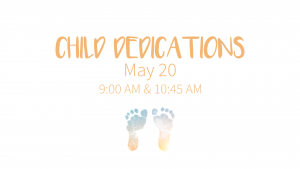 ---
 Sunday Mornings 9:00 and 10:45 | Infant – 6th grade
Our Sunday morning programs include a time of worship, Bible teaching and fellowship. Programs are fully staffed with volunteers who love the Lord. Please plan to arrive 10 minutes before the beginning of the service in order to allow time for check-in at the kiosk located in front of the Multi-Purpose Building.
---
ROCK | Wednesday Nights 7:00-8:15
Click here for our ROCK Calendar
1st – 6th grade, no registration required.
Questions? Contact VBC Kids, 949-857-5007 x9423.
---
Save the Date
Week Venture: July 23-27
---
For Information Regarding our Safety and Security Policies and precautions click here. 
For Information Regarding our Child Dedication click here.