Stay up to Date With What's Going on in Children's Ministry
Sign up for our weekly newsletter to stay up to date on everything going on for kids. It includes our weekly Bible lesson, discussion questions, and activities for families that prefer to worship at home. You'll also get information about our Sunday and Wednesday programs as well as all the fun things that will be happening over the summer.
Join us on Sunday mornings at 10:00. We have classes for all ages nursery-5th grade.
"God's Big Story" tells us the story of God's plan for redemption starting in the Garden of Eden. This year, we're tracing it through the entire Bible and helping the kids connect to God, find their place in the Big God Story, and respond to Him through the power of the Holy Spirit!  Every Sunday is filled with fun activities, games, crafts, and interactive Bible teaching that all reinforce our big God statement for the week—this is a truth about who God is and what he has done.
Join us on campus!  All classes (nursery-6th grade) are open during the 10:00 am service.
If you would like more information about Sunday mornings for kids, contact Cami Marchand.
Face masks are optional for all adults and children in Children's Ministry at Voyagers.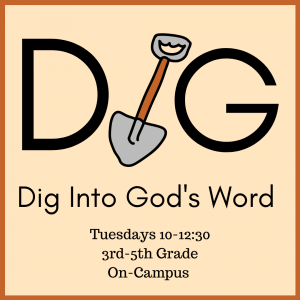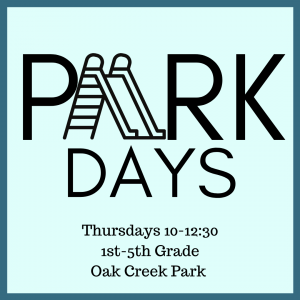 DIG
We'll be taking a fresh look at traditional Bible Stories, going deeper, looking at the context, and learning how to study the Bible, and having lots of fun!
THIS EVENT IS FREE!
*Bring a Bible and a sack lunch!
Park Days
Join us for games, activities and lots of messy fun!
6-24 "Things That Fly"
7-1 "Hawaiian Luau"
7-8 "What a Mess!"
7-15 No Park Thursday
7-22 "Creepy Crawly"
7-29 "Pool Noodle Olympics"
8-5 "Winter in August" 
THIS EVENT IS FREE!
*Bring a Bible and a sack lunch!
Week Venture
Week-long day camp filled with games, devotions, and off-campus field trips to exciting locations around Orange County!
July 12-16
1st – 6th Grade
9 am-3:30 pm daily
except, July 24 – 9 am-5 pm
$180
Click here to register.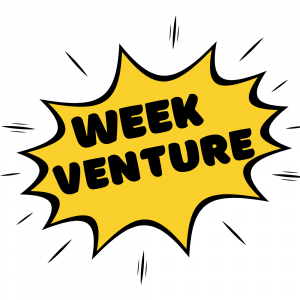 Sonrise Rainforest was such an adventure, watch the recap video above!
CHILDREN'S WEDNESDAY NIGHT MINISTRY WILL RESUME IN THE FALL.
We have 2 programs being offered simultaneously on Wednesday nights:
ROCK:

ROCK is for kids 1st-4th grade, and it's an evening of games, worship, activities, a Bible lesson, and small group discussion. It's a fun-focused time where kids can make new friends and learn about how Jesus impacts every area of their life.
Last semester we explored who God says that He is. This spring we're investigating the mystery of, "Who Does God Say I Am?"
LAUNCH:

LAUNCH is for kids in 5th and 6th grade. To get our 5th and 6th graders ready for the exciting change to Junior High, we have designed a brand new program!  LAUNCH meets on the same schedule as ROCK and includes all the fun and community, but this older group of kids dig deeper into God's word and explore what it means to hold a biblical worldview in a culture of subjective truth.
Fifth and Sixth Grade Blessing: May 12

,

 7:00 pm. A memorable night just for the 5th and 6th grade kids transitioning into Junior High and their families
Preview Sunday: May 16, during the normal Sunday morning, kids will get a sneak-peek at the class they'll be moving up to and meet their new teachers.
Promotion Sunday: May 23, all kids kinder-6th grade will move into their new classes for Sunday mornings.
Sonrise Rainforest: June 14-18, 9:00 am-12:00 pm
DIG Tuesdays: June 22-August 3 (not meeting 7-13)
Park Thursdays: June 24-August 5, 10:00 am-12:30 pm (not meeting 7-15)
Week Venture: July 12-16, 9:00 am-3:30 pm
September 5: New Sunday curriculum begins!  Stay tuned for exciting announcements and more information.
September 8: ROCK begins, Wednesdays, 7:00-8:15 pm.
Want to Join our Team?
Be a part of a fun group of volunteers! We get to invite kids into a relationship with Jesus, teach them who He is, and have some serious fun while intentionally discipling and mentoring kids in their relationship with the Lord.
Check us out on our YouTube channel!
Check us out on social media!